Social Hustle/Swing class D-585
Social Hustle/Swing class
Sessions:
5
Dates:
3/31/2022 to 4/28/2022
Meeting Times
Thursday 7:00 PM - 7:45 PM
---
Description
We simplify and combine the basics from Hustle, Swing and Latin dances to make it easy to learn. Perfect for couples who want to go out dancing. If you are attending a wedding, going on a cruise or just want to be able to dance anywhere this class is perfect for you. No dance training necessary. Wear comfortable clothes and bring clean shoes to change into during bad weather that can pivot on the dance floor. The cost of this class is $140 per couple.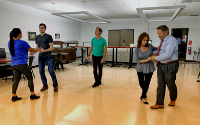 Note: Registration has ended